Poted
Feb 27, 2009
Hackers,
Robotics,
Things Video Podcast,
rapid prototyping,
thingiverse
Comments Off
We all know that life would be better if we could make a sandwich by typing "Sudo Make Me A Sandwich" on the command line of a computer. Adam Cecchetti and I made that dream come to life this last weekend.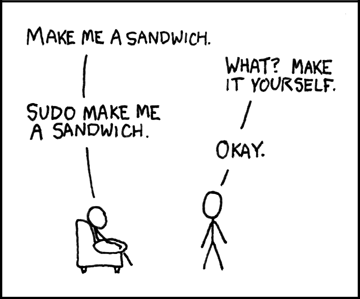 This robot was inspired by XKCD, a wonderful webcomic that appears to have some sort of window into my head. I swear I think of things and the next day, there is an XKCD comic about it.
Make sure to check out Adam's photos and his excellent blog called Shadowflux where he's posted his pictures and the code for this robot. Adam took the robot home to Seattle with him and I am optimistic that more sandwiches will be born of this robot and set free into the world.
In order to make it all work, Adam set up an arduino to interface with 2 servos and 2 steppers using the RepRap stepper controllers.
I used QCAD to design some bread and cheese distributing mechanisms and the infrastructure is up on Thingiverse.com.
The toaster oven needed a little modification and a servo controlled flap was put into place with some hinges to make it move slowly. Adam found some pretty special stepper motors with an amazing amount of torque fo.r the flap and the tray controls.
This is one of those robots that I swear is alive. The noises it made were like an animal and it seemed that everytime we looked the other way, it was coming to life and changing things with the setup.
We made the video at NYCResistor and the music for this video is courtesy of Eric Skiff and is licensed Creative Commons on his site, GlitchNYC. Astera provided the public service anouncement for this video. Dehydration and starvation can kill. This video is one of those videos that I think it's important that everyone see. Please submit it to your social networks and use email and digital sharing to let your friends and family know that robots can now make your food for you.
This video is sponsored by SquareSpace, a great place to set up a website or blog. Use the code "bre" to get 10% off for life when you sign up.
Here's the MP4 for you to download or you can get it automatically by subscribing to this podcast in iTunes! You can also find out about videos right away by following me on twitter.